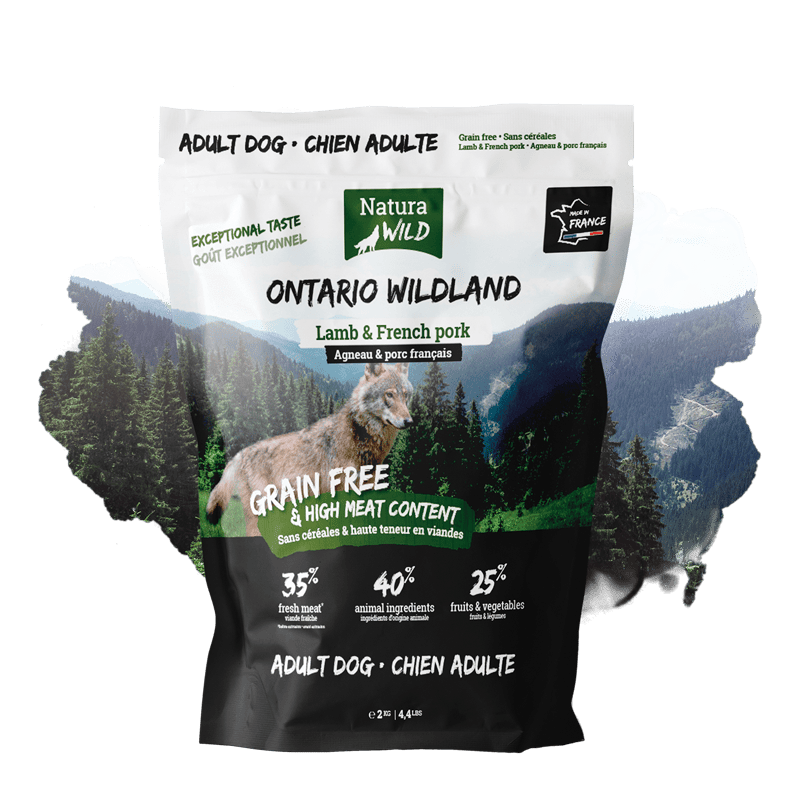 Lamb French pork
Ontario Wildland
Complete food for adult dogs, suitable for all breeds. Does not contain fish to meet the needs of dogs that may be intolerant of fish.
40 % dehydrated meat and fat 
25 % fruits and vegetables
An exceptional taste for your active dog!
And what if you varied your pet's pleasures by serving him this original recipe made with lamb and French pork? Ontario Wildland is a complete grain-free food for adult dogs, so you're sure to delight his taste buds while taking care of his health.
At Natura Wild we did not hesitate to formulate an excellent recipe associating lamb and pork for the pleasure and the health of your dog! The pork is rich in proteins, in vitamins B, in iron, in selenium, in zinc and in phosphorus. It is one of the fattest meats suitable for adult and active dogs.
Lamb meat is known as a hypoallergenic meat, with many benefits for dogs with food allergies. And dogs seem to particularly enjoy the taste of lamb. Give your dog that great taste in this complete and vitamin-packed recipe!
Lamb meat (fresh 35%*, dehydrated 16%), dehydrated meat 11% (including French pork), mix of fruits & vegetables 25% (green peas, beet pulp, dried apples, dried cranberries, dried blueberries, dried raspberries), dried farm potatoes, poultry fat 10%, potato protein, dried potato pulp, yeast, hydrolyzed animal protein 2%, fructo-oligosaccharide (dried chicory root), yucca, dried herbs (nettle, chamomile, mint extract, marigold leaves, gentian, fennel), glucosamine, chondroitin sulfate. *before extrusion
Crude protein 31%, Crude oils and fats 18%, Crude fibres 3%, Crude ash 7,8%, Calcium 1,5%, Phosphorus 1%.
Metabolizable energy : 3800 kcal/kg
3a672a Vitamin A 17.500 IU/kg, 3a671 Vitamin D3 1.250 IU/kg, 3b103 iron 70 mg/kg, 3b202 iodine 1,8 mg/kg, 3b405 copper 8 mg/kg, 3b605 zinc 115 mg/kg, 3b503 manganese 7,5 mg/kg, 3b815 selenium 0,05 mg/kg, biotin 0,195 mg/kg, L-carnitine 150mg/kg.Technological additives : anti-oxidants.
Balanced and nutritious diet
The selection of nutritional ingredients for complete foods means that these foods have been developed to provide a balanced diet. This food meets all the dog's needs for energy, protein, fat, vitamins and minerals.