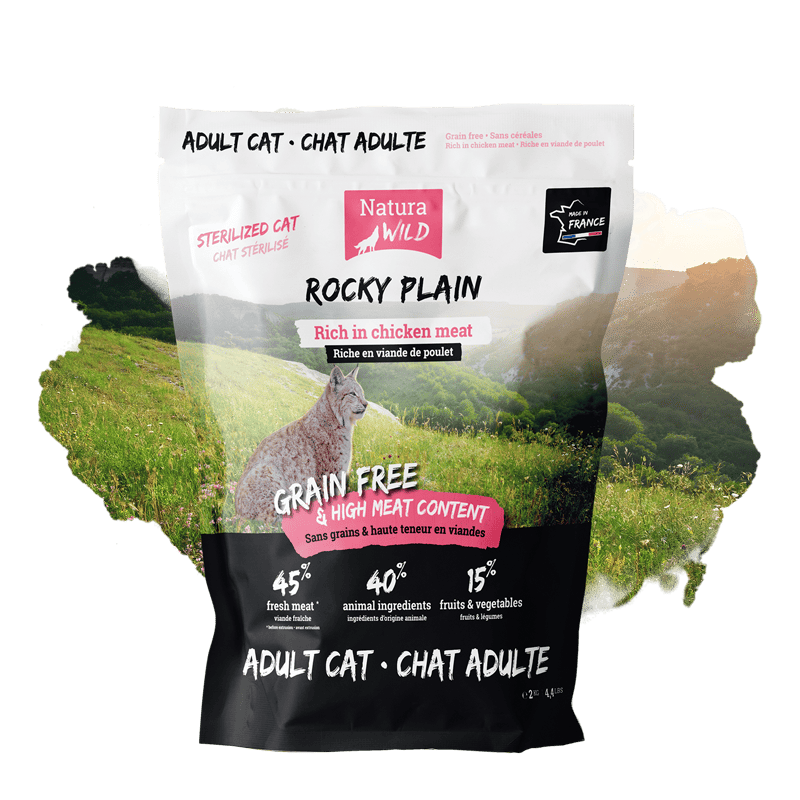 Rich in chicken meat
Rocky Plain
Complete food for sterilized adult cats. May also be suitable for overweight cats.
40 % dehydrated meat and fat 
15 % fruits and vegetables
A recipe designed to meet your cat's needs
Your cat is a carnivorous feline that must satisfy its physiological needs in animal proteins. However, because he is sterilized, his energy needs are lower. That's why he needs an adapted diet that can prevent weight gain or deficiencies.
Our specially adapted kibbles for spayed or neutered adult cats contain 45% fresh chicken meat and 40% ingredients of animal origin.
Enough to satisfy your feline's appetite and greed!
Chicken fresh meat 45 %* (dehydrated 14%), dehydrated poultry protein 25%, mix of fruits & vegetables 15% (green peas, chicory pulp, yucca schidigera, pomegranate, oregano, parsley, marjoram, sage, thyme), dried farm potato, poultry fat 6%, dried potato pulp, hydrolyzed poultry protein 5 %, hydrolysed liver and heart protein 2 %, greaves 2%, linseed, vegetal fibers, brewer's yeast, beet pulp, salmon oil. *before extrusion
Crude protein 32%, Crude oils and fats 13%, Crude fibres 4,5%, Crude ash 8,0%, Calcium 1,4%, Phosphorus 0,9%.
Metabolizable energy (kcal/kg): 3800.
3a672 Vitamin A 20000 IU/kg, 3a671 Vitamin D3 1250 IU/kg, 3b103 iron 69mg/kg, 3b405 copper 8mg/kg, 3b503 manganese 7,5mg/kg, 3b605 zinc 117mg/kg, 3b815 selenium 0,05mg/kg, 3b202 iodine 1,8mg/kg. Taurine 485 mg/kg, biotine 0,29 mg/kg. Technological additives: natural antioxidant 1b306 (i) Tocopherol extracts from vegetable oils. Zootechnical additives: ammoniumchloride : 3800mg/kg
Kibbles adapted to sedentary cats
It's obvious, your sterilized cat's energy needs are 20 to 30 times lower than those of a non-sterilized cat. But he has a very healthy appetite! His diet must therefore provide him with all the nutrients he needs while allowing him to keep his figure. These kibbles are particularly rich in vitamins and minerals with 15% of fruits and vegetables such as beet, chicory, pomegranate… without forgetting aromatic herbs to enhance the flavor.
With these kibbles, your little friend receives the right amount of calories to promote vitality and maintain a weight appropriate to his age and morphology. All the while, it satisfies his feeling of satiety and delights his taste buds as a small carnivore.