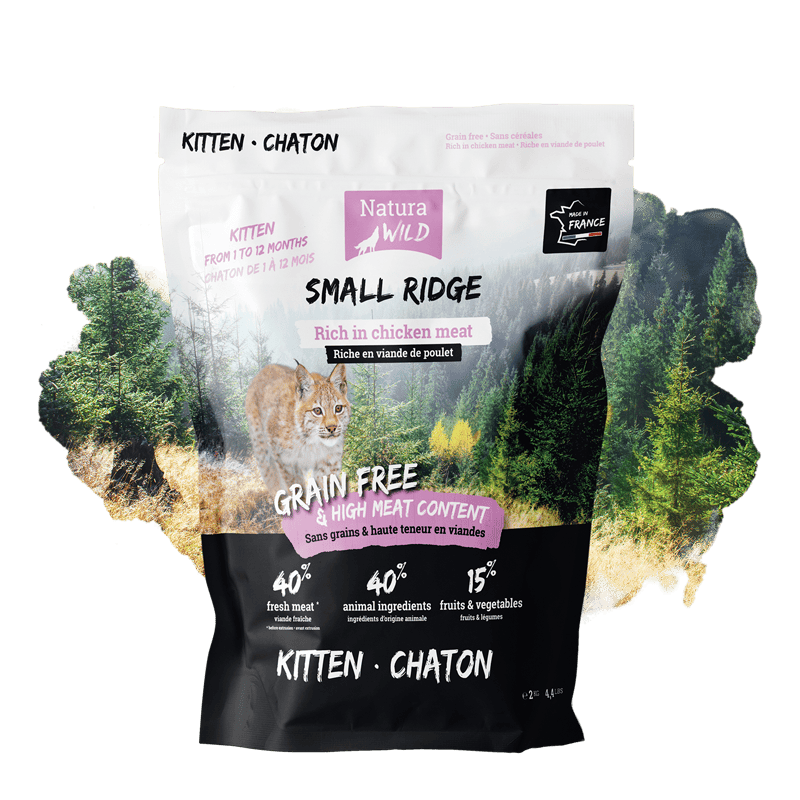 Rich in chicken meat
Small Ridge
Complete food for kittens that can be used from the weaning period until the age of 12 months.
40 % dehydrated meat and fat 
15 % fruits and vegetables
Nutrient rich food, adapted to his growth
Because a kitten spends most of his time playing, exploring his new world and, incidentally, making a few mistakes (automatically forgiven), he needs a healthy and balanced diet that covers his particularly high nutritional needs. The recipe for these kibbles, specially adapted to kittens, boosts their growth, strengthens their bones and develops their organs. While strengthening their immune system.
Made with 40% fresh chicken meat and 40% animal ingredients, these kibbles meet the physiological needs of your little feline, who is primarily a carnivore.
He gets all the protein he needs to satisfy his desire to play and roam around.
Chicken fresh meat 40 %* (dehydrated 14%), dehydrated poultry protein 15%, mix of fruits & vegetables 15% (green peas, linseed, dehydrated carrots, chicory pulp, yucca schidigera, chia seeds, dehydrated raspberries, dehydrated apple), greaves 13%, dried farm potato, poultry fat 5%, hydrolyzed animal protein 5%, hydrolysed poultry protein, dried potato pulp, hydrolysed liver and heart protein 2 %, yeast, beet pulp, minerals. *before extrusion
Crude protein 40%, Crude oils and fats 16%, Crude fibres 2,5%, Crude ash 7,0%, Calcium 1,2%, Phosphorus 0,8%.
Metabolizable energy (kcal/kg): 3950.
3a672 Vitamin A 22000 IU/kg, 3a671 Vitamin D3 1750 IU/kg, 3b103 iron 87 mg/kg, 3b405 copper 147 mg/kg, 3b503 manganese 2,3 mg/kg, 3b605 zinc 9,3 mg/kg, 3b815 selenium 0,07 mg/kg, 3b202 iodine 10 mg/kg. Taurine 1000 mg/kg, biotine 0,3 mg/kg. Technological additives: natural antioxidant (tocopherol extracts from vegetable oils)
Complementary ingredients for growing up
Our kibbles do not contain cereals to fight against allergies and intolerance to gluten and to facilitate digestion. The potato helps him to fill up on energy and the carrots, rich in beta-carotene, improve his visual acuity, which is essential for chasing his favourite toys. Salmon oil and flaxseed, rich in Omega-3, promote healthy skin and coat, while apples and raspberries, rich in antioxidants, are sources of vitamins. Finally, yucca extract, naturally antibacterial and antiparasitic, reduces the odor of his stools. As for taurine, an essential amino acid, it helps your beloved hairball's heart and eyes function properly and he will become a beautiful cat (or pussycat) in great shape.